The Olympic Spirit?
Rio Olympics 2016: French athlete booed while receiving medal
3:25 PM Wednesday Aug 17, 2016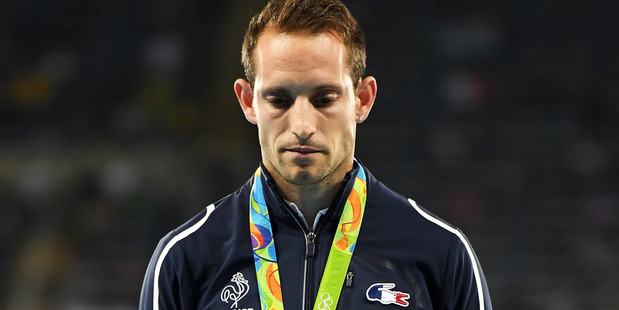 Brazilian fans at Rio's Olympic Stadium ignored requests to behave themselves as French pole vaulter Renaud Lavillenie was greeted with a chorus of boos as he received his silver medal today.
Lavillenie reacted furiously to the partisan treatment he received during yesterday's tussle with local hero Thiago Da Silva, but it continued as he took to the podium in tears today.
"That is just wrong," former British runner Paula Radcliffe said on Twitter. "Ashamed of the track and field crowd tonight. Cheer your own as loud as you like but never disrespect the others."
The 22-year-old Brazilian beat the defending champion in a thrilling contest, but it was marred by large sections of the crowd booing Lavillenie's attempts.
The hostile atmosphere clearly unsettled the Frenchman, who gave fans the thumbs-down sign between attempts and in his first interview after the event likened his treatment to the reception America's black sprinter Jesse Owens received at the 1936 Olympics in Germany.
He apologised for that comment in the press conference later on but repeated his belief that booing rivals was unacceptable at the Olympics.
"If you get no respect in the Olympics, where can you get respect?" he said.
"If this is a nation where they only want Brazil and they spit on others, then you should not organise the Olympics."
In relation to Berlin 1936, he added: "In 1936 the crowd was against Jesse Owens. We've not see this since. We have to deal with it."
International Olympic Committee President Thomas Bach described the booing that echoed around the stands during the medal ceremony as "shocking behaviour" that was "unacceptable at the Olympics".
The behaviour of the crowds in the venues - when there are crowds in the venues - has been a recurring theme during the Games, with athletes, coaches and officials frequently having to ask for quiet at key times.
But the Brazilian fans' football-style bonhomie has also created a great atmosphere in some venues, particularly when a home athlete or team were in action, or Argentina were playing.
But Mario Andrada, the spokesman for Rio 2016's organising committee, admitted on Tuesday that his compatriots went too far in the pole vault final.
"As an organising committee, and as a citizen of Brazil and a sports fan, we don't think booing is the right attitude, even when you're in one-to-one competition with a young Brazilian who has a chance to be the champion," said Andrada.
"We plan to intensify our dialogue with the Brazilian fans through social networks to make sure that they behave as fans in the proper and elegant manner without losing the passion for sport.
"Booing is not the right thing to do when you are competing at Olympic level."
The International Olympic Committee has largely avoided saying anything critical about Rio, Rio 2016's organisers or Brazilians fans, but its spokesman Mark Adams did say Olympic bosses would prefer it if "the passion is channelled in a good way".